Streaming on Twitch is not just about showcasing your gameplay or talent but also about providing an aesthetic and engaging experience for your viewers.
Overlays can make all the difference, transforming an ordinary stream into a visual masterpiece. Let's dive into the best overlays for Twitch that can help elevate your streaming game!
Street Wear Twitch Overlay
Proving to be one of the most versatile and functional overlays for Twitch of 2023, Street Wear has a minimalistic and modern look, fitting into any stream that is looking for something aesthetic without going overboard.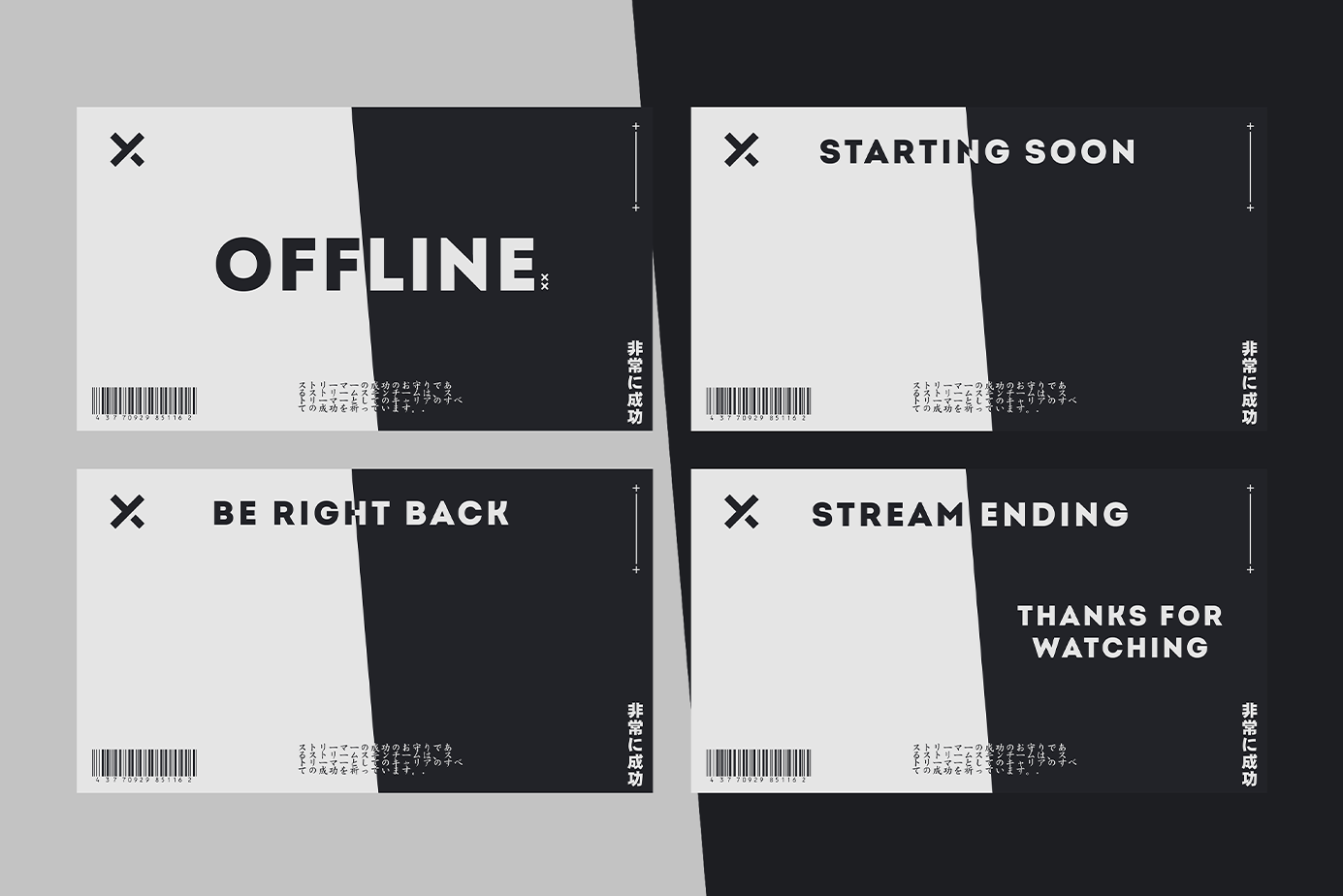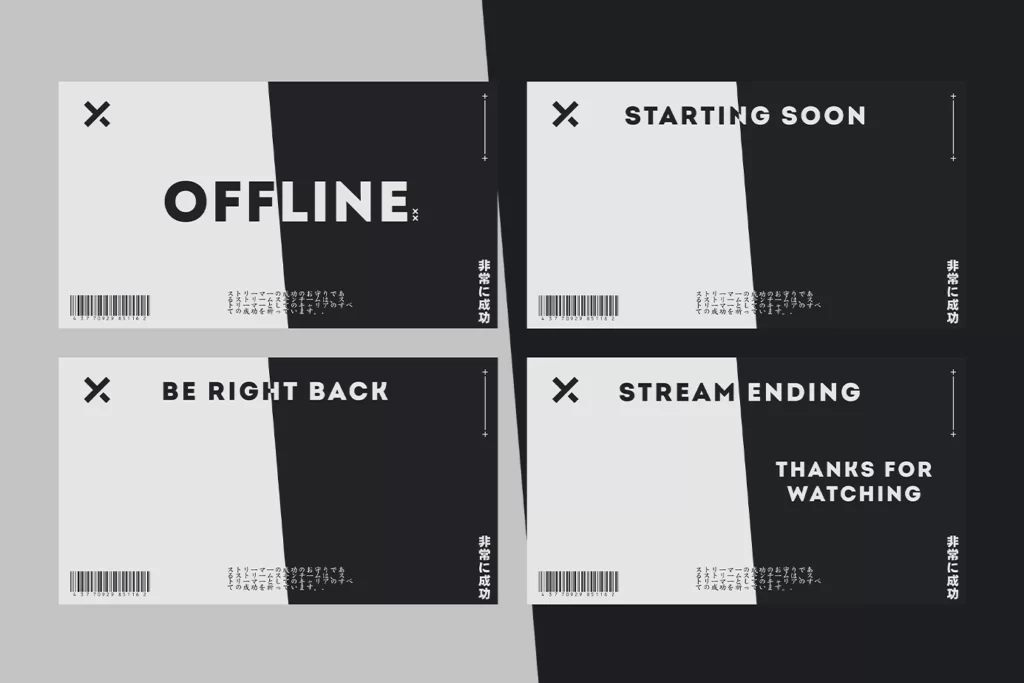 This package has Overlays for Twitch, Scenes for OBS, Twitch Banner and panels, Scene Transition, Custom Chatbox, Webcam Border, Countdown, Starting Soon, Be Right Back, Stream Ending and Just Chatting Scenes.
Ready for Twitch, Facebook, and YouTube and fully Optimized for OBS Studio and StreamLabs Desktop.​ With language options in English and Portuguese.
Glitch Twitch Overlay
Looking for an aesthetic look that matches your personality?
Glitch Twitch Overlay has the essentials for your stream, this package allows huge customization containing fonts, effects and assets, in addition, it is possible to change to any color allowing it to match your brand.
Included in the Stream Pack: Overlays for Twitch, webcam borders, stinger transitions, Twitch banner & panels, OBS Overlays, Starting Soon, Be Right Back, Stream Ending & Stream Offline Scenes.
Fully editable files in OBS itself and Photoshop, change Language, Text, Assets and Colors as you prefer!
Modern FPS Twitch Overlay
Elevate your streaming visuals to a competitive level with our Valorant-Inspired Overlays for Twitch. Designed with the dynamic energy and sleek aesthetic of the hit tactical shooter game "Valorant" in mind, this overlay is perfect for agents looking to bring a touch of Radiant brilliance to their streams.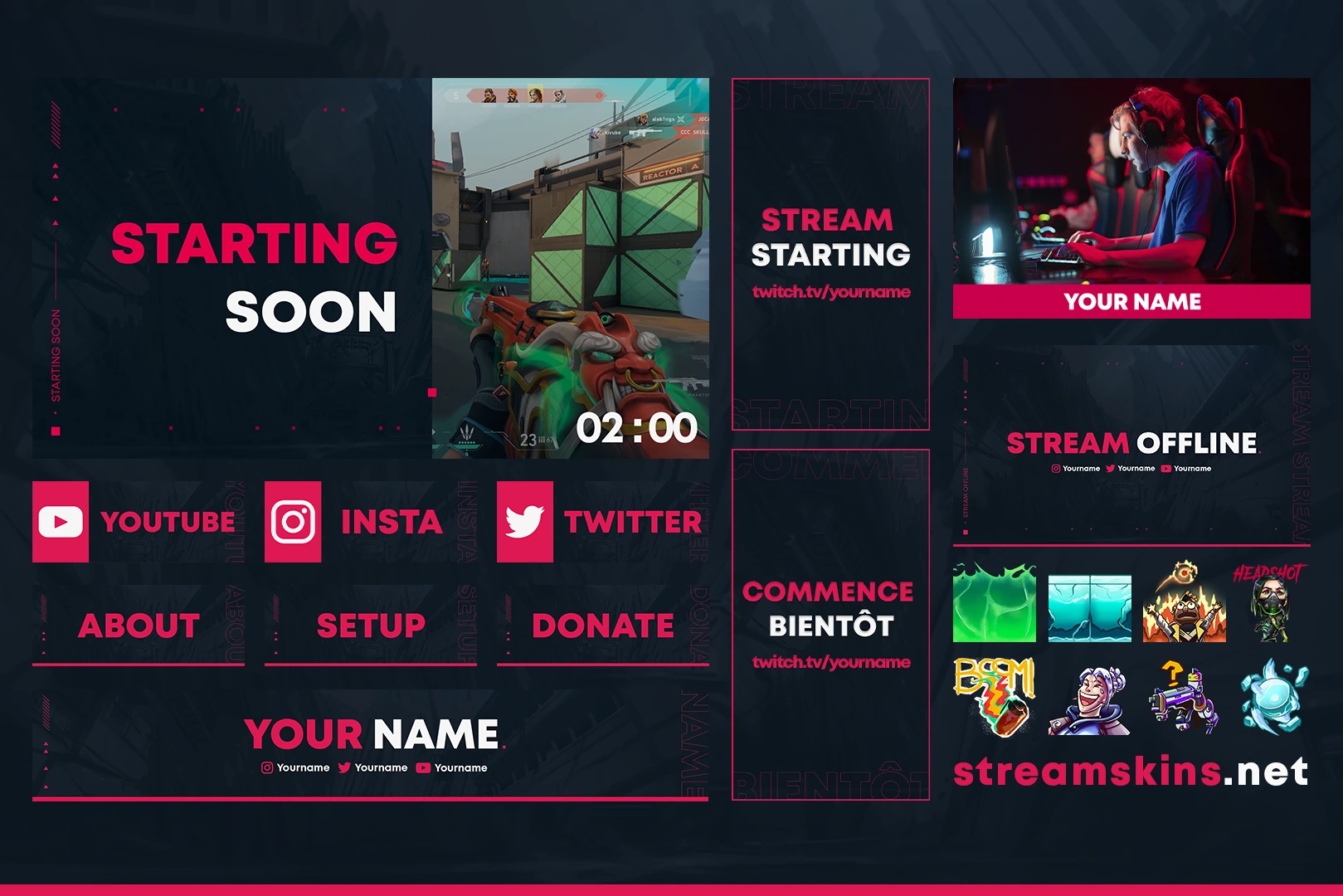 Gamer-Centric Design: Drawing inspiration from the neon-lit streets of Split to the desert landscapes of Bind, this overlay captures the essence of Valorant's diverse maps.
High-Resolution Graphics: Sharp, vibrant, and optimized for Twitch's specifications, this overlay ensures your streams look top-notch and competitive.
Dynamic Transitions: Seamless animated transitions that resonate with the game's visual effects, enhancing viewers' immersion.
Integrated Alerts: Seamless on-screen notifications for new followers, subscribers, donations, and more, designed to match the FPS theme.
Adaptable Layout: Whether you're streaming gameplay, a talk show, or a creative session, the overlay can be tailored to fit any content type.
Nippon Twitch Overlay
Immerse your viewers in the beauty of traditional Japanese art with our Kanagawa Wave Overlays for Twitch. Inspired by the iconic masterpiece, "The Great Wave off Kanagawa" by Katsushika Hokusai, this overlay is a harmonious blend of timeless art and modern gaming aesthetics.
Easy Customization: Personalize the overlay with your username, channel information, and more.
User-Friendly Installation: This pack comes with a step-by-step guide on how to implement the overlay into your Twitch streaming software.
Compatibility: Designed to work flawlessly with major streaming platforms and software such as OBS, Streamlabs, and XSplit.
Emerald Twitch Overlay
Step into the World of Luxury with Our Emerald Stream Overlay
Evolve your stream with this special package made for the best streamers. Emerald has everything you need to customize your stream, starting soon scene, in-game overlay, just chatting, be right back, twitch banners, OBS Overlays, webcam border, twitch panels, chatbox, scene transitions and even VTubers overlays.
Don't just stream; make a statement with style. Elevate your streaming experience, foster a stronger community, and give your viewers the luxury treatment they deserve.
RGB Twitch Overlay
Add FPS to your stream with this complete RGB Stream Pack for Twitch and OBS, customize your stream with a fresh and modern look made for true gamers, with a design inspired by the best hardware.
Unleash the ultimate gaming experience for both you and your viewers with our RGB Gamer Twitch Overlay. Crafted with precision, passion, and an acute understanding of the gaming community, this overlay reflects the heart of every hardcore gamer. Dive into a realm where gaming is not just a hobby, but a lifestyle.
RGB has optimized files to make the most light as possible and not lose FPS when streaming, leaving your lives much more smoother, competitive and beautiful without interfering with your PC performance.
Asimov Twitch Overlay
Stream overlay made for CS-GO lovers. Modern design, color variations, scene transitions, and high customization, all in a complete package with the best for your stream, Twitch Overlay inspired by Counter-Strike Asiimov skin.
This overlay package integrates seamlessly with your CS:GO gameplay, boasting dynamic elements such as kill counters, live stat trackers, and round-win animations.
With sleek designs inspired by the gritty in-game environments and iconic weapon skins, it's the ultimate streaming companion for amateur fraggers and esports pros alike. Gear up, lock and load, and give your Twitch channel the competitive edge it deserves.
Included in the stream pack: OBS Overlays, webcam borders, stinger transitions, twitch banner & panels, Starting Soon, Be Right Back, Stream Ending & Stream Offline Scenes.
Overlays can also be divided into several categories that change their aesthetics according to your objective:
1. Animated Overlays:
Pros: Brings a dynamic feel to your stream; keeps viewers engaged.
Cons: Might be resource-intensive for some setups.
Best for: Gamers and energetic streamers who love lively animations.
2. Minimalistic Overlays:
Pros: Clean, non-distracting, and modern.
Cons: Might not stand out in the crowd.
Best for: Podcasters, talk show hosts, or those who focus on content over flash.
3. VTuber Overlays:
Pros: Includes a fully-rigged, stream-ready VTuber model with a complete package on the same design style for your stream.
Cons: Focused on those who want to produce VTuber content.
Best for: VTubers, people who don't want to show their face, anime and roleplaying lovers.
4. Themed Overlays:
Pros: Tailored for specific genres, games, or moods.
Cons: Might require frequent changes if you switch content types.
Best for: Dedicated game streamers or those who stick to specific content themes.
5. Interactive Overlays:
Pros: Engages viewers with real-time interactions, like alerts for follows, subs, or donations.
Cons: Can become cluttered if not managed properly.
Best for: Streamers aiming to build community and acknowledge viewer interactions.
6. Custom-made Overlays:
Pros: Unique to your brand; sets you apart.
Cons: Often more expensive and requires design collaboration.
Best for: Streamers looking to build a distinct brand identity.
7 Modular Overlays:
Pros: Offers flexibility; mix and match components based on stream needs.
Cons: Can lack consistency if not chosen carefully.
Best for: Streamers who like changing layouts frequently.
Tips for Choosing the Right Overlay:
Reflect Your Brand: Ensure your overlay matches your channel's brand, tone, and content.
Avoid Clutter: Too many elements can be distracting. Keep it clean.
Test Compatibility: Ensure the overlay is compatible with your broadcasting software.
How do you get overlays for Twitch?
Getting overlays on Twitch generally means integrating graphic elements into your livestream to make it more engaging and professional-looking. Overlays can include webcam borders, stream starting or ending screens, chat boxes, alert notifications, and more.
What do streamers use for overlays?
Streamers use a combination of graphic designs and software platforms for their overlays. The tools and services they use often depend on their individual needs, branding preferences, and the level of customization they desire. Here are some of the most common tools and services streamers use for overlays:
Custom Graphic Designs:

Software: Many streamers use graphic design software to create custom overlays for Twitch tailored to their branding.

Adobe Photoshop: Popular for creating detailed and tailored graphics.
GIMP: A free alternative to Photoshop.
Canva: Online graphic design tool that has templates suitable for streaming overlays.

Once created, these designs are imported into streaming software as static overlay elements.

Overlay Platforms & Services:

Streamlabs OBS (SLOBS): An all-in-one solution that offers streaming software combined with a plethora of built-in overlay templates, widgets, and alert settings. It's particularly popular among new streamers because of its user-friendly interface and integrated functionalities.
StreamElements: Offers a web-based overlay system with a wide range of customizable overlays, alerts, and widgets. Users can design their overlays online and then integrate them into their stream via a browser source.
Nerd or Die: Provides premium and free overlay packages, alerts, and widget themes. They also offer tools to customize the overlay packs.
Own3D.tv: Offers a wide range of streaming overlays, alerts, and other graphics tailored for live streamers.
Visuals by Impulse: Provides custom and semi-custom overlay designs.

Streaming Software:

OBS (Open Broadcaster Software): Free and open-source software for video recording and live streaming. Streamers can integrate custom and platform-based overlays into OBS.
XSplit: Another broadcasting software that supports overlays, alerts, and more. Some prefer its interface and features over OBS.

Third-party Widgets and Plugins:

TipeeeStream: Useful for multi-platform streamers as it amalgamates alerts from different platforms into one feed.
Muxy: Offers alerts, analytics, and other integrations tailored for streamers.
Rainmaker.gg (formerly Streamlabs): Provides various tools including alerts, donations, and merch store integrations.

Animated Overlays: For those who prefer animated overlays, tools like After Effects can be used to create motion graphics which can then be integrated into streaming software.
Chat Integration: Some streamers like to have chat displayed on their stream. Both Streamlabs and StreamElements provide chat box widgets for this purpose.
When selecting tools or services for overlays, streamers should consider their individual needs, the platforms they stream on, the level of customization they require, and their budget. It's also essential to remember that while overlays enhance the stream's aesthetics, content quality and viewer interaction remain paramount.
What are the best overlays for Twitch?
Stream Skins offers some of the best overlays for Twitch in the industry, combining both aesthetic appeal and seamless functionality to enhance streamers' broadcasts.
Our overlays can help in branding, interaction, and enhancing the overall viewer experience. Here's a breakdown of the various types of overlays and their purposes:
Stream Layout Overlays: These overlays frame the main content, whether it's gameplay, a talk show, or any other type of streaming content.

Webcam Frame: A design frame that surrounds the streamer's webcam footage.
Game Capture Frame: This sets the stage for your main content, usually gameplay, to be displayed.

Alerts: Dynamic overlays that pop up to announce new followers, subscribers, donations, and more.

Follower Alert: Notification when someone follows the channel.
Donation Alert: Pops up when someone donates to the streamer.
Subscriber Alert: Notification of new or renewed subscriptions.
Host & Raid Alerts: Announcements for when someone hosts or raids the channel.

Branding Overlays: These elements represent the streamer's brand.

Streamer's Name/Logo: Often found in a corner or at the top/bottom of the stream.
Social Media Integration: Displaying Twitter, Instagram, YouTube, and other social media handles.

Information Overlays: Display useful or necessary information about the stream.

Now Playing: Shows the current game or activity.
Stream Schedule: Details about when the streamer goes live.
Top Donor/Recent Sub: Acknowledging supportive viewers.

Interactive Overlays: Engage the audience more directly.

Chat Box: Displaying the chat on screen so viewers and VOD watchers can follow along.
Polls & Votes: Real-time engagement tools to involve viewers in decisions.
Viewer Count: Display the current number of viewers watching.

Transition Overlays: Visuals that play during switches between scenes, such as starting soon, BRB, and stream ending.
Utility Overlays: Overlays related to the mechanics or rules of a particular game or stream.

Cooldown Timers: Especially important in games with significant cooldown abilities/items.
Key Press Display: Useful for instructional streams, showing viewers which keys are being pressed.
When selecting or designing an overlay, it's crucial to ensure it complements the content and doesn't distract viewers. Overlays should provide additional context, engagement, or aesthetics without overshadowing the main content.
Are there free Overlays for Twitch?
Yes, there are numerous free overlays for Twitch available online. Many popular streaming-related platforms and websites offer a variety of free overlay designs suitable for different games, themes, and personal branding styles. Here's a rundown of some places where you can find free Twitch overlays:
Stream Skins: We have a complete page with free stream overlays available in different styles, see more: free overlays for Twitch.
Streamlabs OBS (SLOBS): Streamlabs OBS offers an integrated library of free themes and overlays that users can easily implement into their streams.
StreamElements: This web-based platform has a plethora of free overlay themes. Once you customize and set up your overlays on their website, you can integrate them into your stream using a unique URL as a browser source in your streaming software.
Nerd or Die: While they have many premium offerings, Nerd or Die also provides free versions of some of their overlay packages.
TwitchOverlay: This website offers a range of free overlays, webcam frames, and alert designs.
Visuals by Impulse: They provide a "Free Stuff" section with various free streaming overlays and graphics.
Own3D.tv: This platform occasionally offers free overlays for Twitch among their broader premium selections.
Custom Design: If you're skilled in graphic design or want to learn, you can use software like GIMP (free) or Adobe Photoshop (paid) to design your overlays. This ensures a unique look tailored specifically to your brand.
Community and Forums: Websites like Reddit (e.g., r/Twitch) and dedicated streaming forums often have members who share free overlay designs or can direct you to resources.
When using free overlays, it's a good idea to ensure they are not copyrighted or have restrictions on usage. Many free designs are available under the condition that you credit the creator, so always check the terms of use. And remember, while overlays can enhance the aesthetic of your stream, engaging content and viewer interaction remain paramount to streaming success.
Overlays are essential tools in a streamer's arsenal. They add a touch of professionalism, keep viewers engaged, and help in branding. Whether you're a newbie or a Twitch veteran, the right overlay can be a game-changer. So, explore these options and find the perfect match for your channel!
Happy Streaming!