Are you a Twitch streamer looking for the best USB microphone to elevate your content creation? Look no further, as we've compiled a list of the top 10 best USB mics for Twitch streaming.
From crystal-clear audio quality to ease of use, these mics are sure to take your streaming experience to the next level.
HyperX QuadCast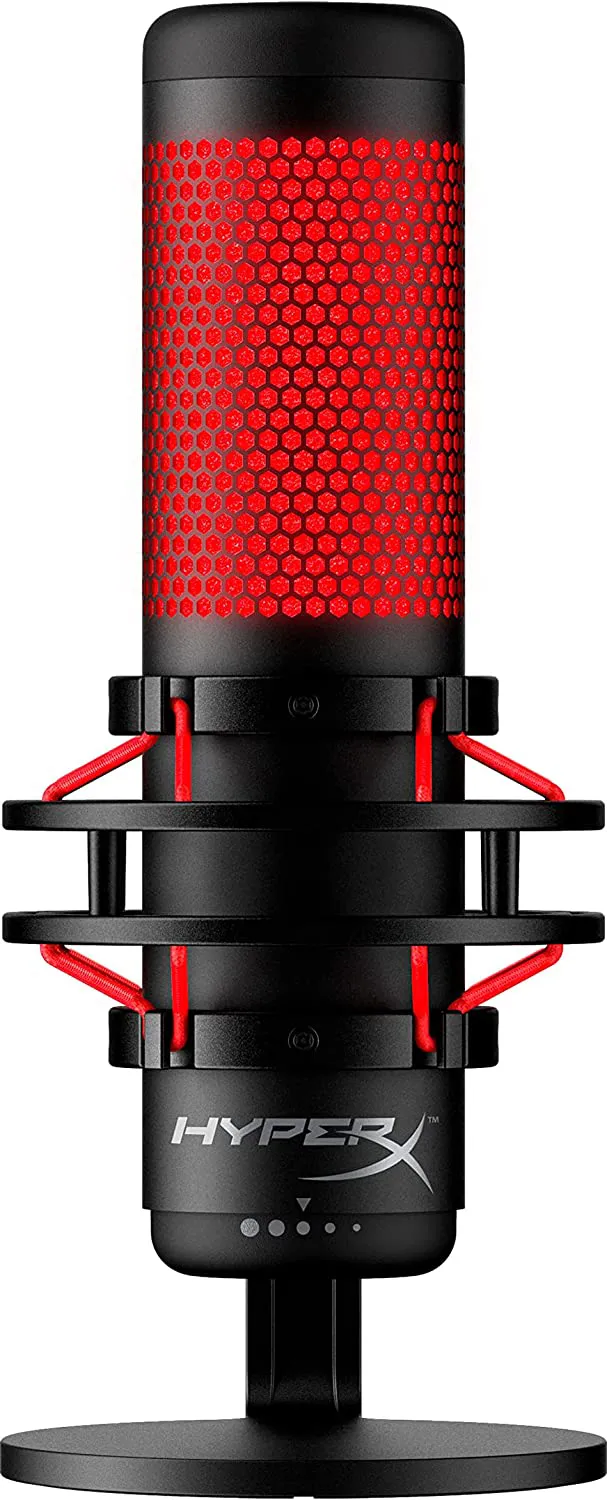 The HyperX QuadCast is the most used USB microphone by streamers and content creators, with a premium and robust design that features a sleek and stylish visual with a built-in shock mount to reduce vibrations and noise.
The microphone is made of solid metal and has a stable base, ensuring durability and stability. The QuadCast also features lighting and a tap-to-mute sensor.
The HyperX QuadCast uses a condenser capsule with a cardioid polar pattern, providing clear and natural sound. It also has a built-in pop filter to reduce plosive sounds and gain control to adjust the microphone's sensitivity.
The HyperX QuadCast is priced in the mid-range around $120, making it a great option for those looking for a high-quality microphone without breaking the bank.
Blue Yeti X


The Blue Yeti X is a popular USB microphone used by many content creators, podcasters, and streamers for its high-quality sound and customizable features.
It features a sleek and modern design with a sturdy metal body and adjustable stand. It has a multi-function control dial on the front that allows you to adjust the microphone's gain, mute, and headphone volume.
This Blue Yeti Mic features a four-capsule condenser array with four different polar patterns: cardioid, bidirectional, omnidirectional, and stereo.
This allows for a wide range of recording options, making it suitable for various recording situations. It also has a built-in high-pass filter to eliminate unwanted low-frequency noise and a 24-bit/48kHz sample rate for high-quality sound.
The Blue Yeti X is a little more expensive but still in the average price for USB microphones, around $170, making it a great option for those looking for a rugged microphone with superior audio and impeccable construction.
Audio-Technica AT2020USB+


Now, for a more affordable option, we brought the audio-techinica at2020usb, a perfect microphone for beginner streamers, and an excellent microphone at a very affordable price.
It comes with a pivoting stand mount that allows for easy positioning and a tripod desk stand for added stability. The microphone is built with high-quality materials, making it durable and long-lasting.
The AT2020USB+ is a cardioid condenser microphone that delivers a clear and natural sound. Its built-in headphone jack allows for real-time monitoring.
The price of this microphone is below average, being less than half of the previous prices of $60, making it a great option for those who are starting in streams or do not have much money to invest.
Samson G-Track Pro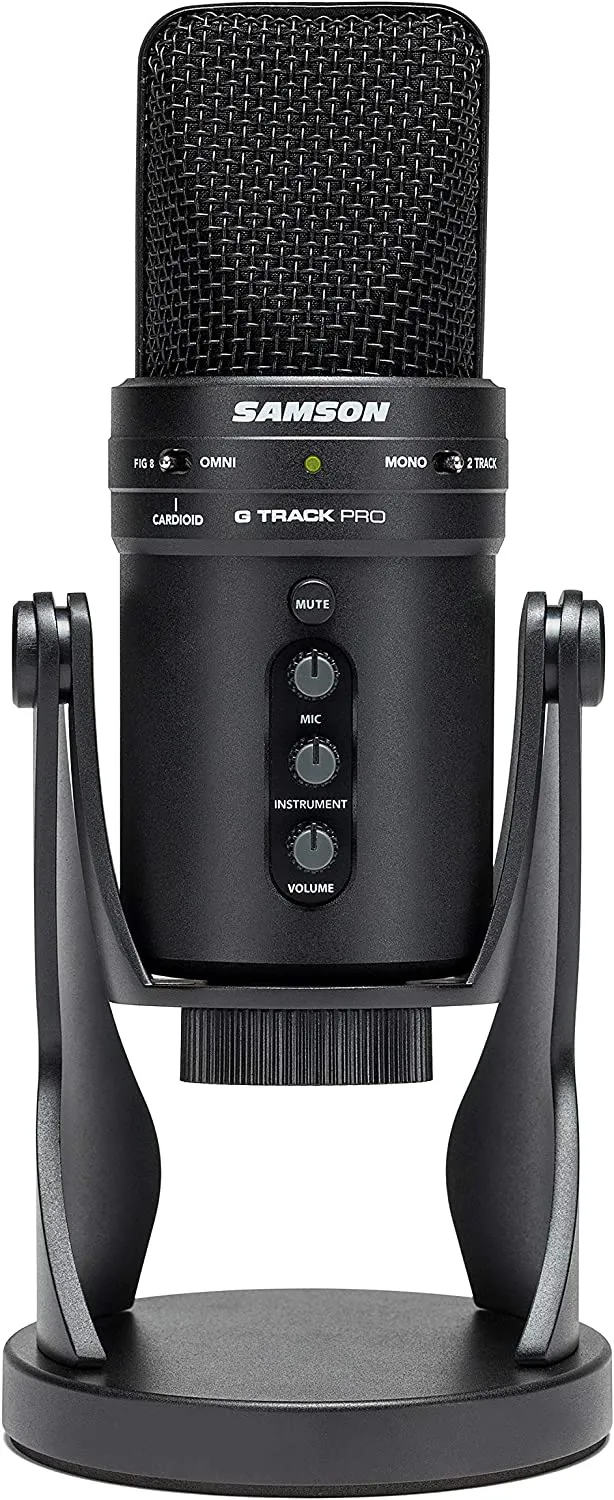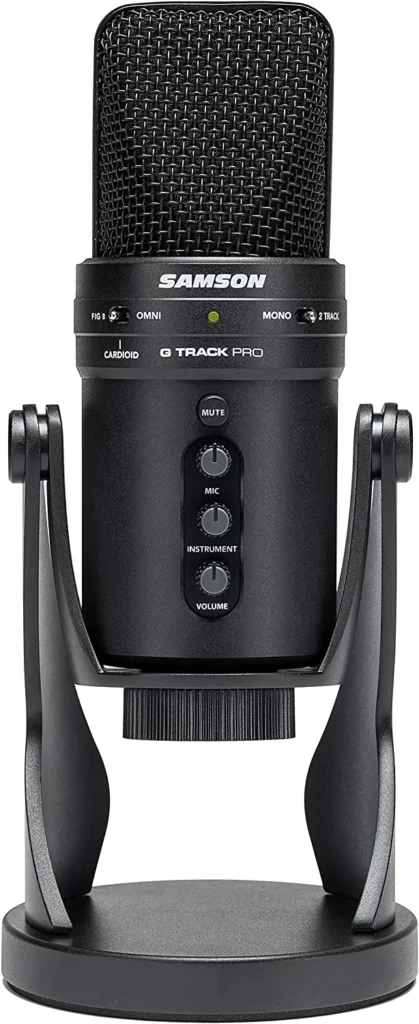 Now let's go to one of our favorite mics on this list The Samson G-Track Pro is perfect for anyone who wants high-quality sound for their podcast, music production, or streaming.
It has a sleek design and comes with a built-in desktop stand, making it easy to set up on your desk.
The microphone is made of durable metal, which gives it a professional look and feel. With the best audio on this list, this mic is certainly a high-end premium product.
One of the best features of the Samson G-Track Pro is its exceptional sound quality. The microphone has two large-diaphragm condenser capsules that can capture sound with a frequency response of up to 50Hz-20kHz. It also has a selectable polar pattern, which allows you to choose between cardioid, figure-eight, and omnidirectional modes depending on your needs.
Even with its extremely superior quality, its price is not so high, being an average of $170, certainly one of the best cost-effective options for those looking for a premium product with superior quality.
Microphone Fifine K669B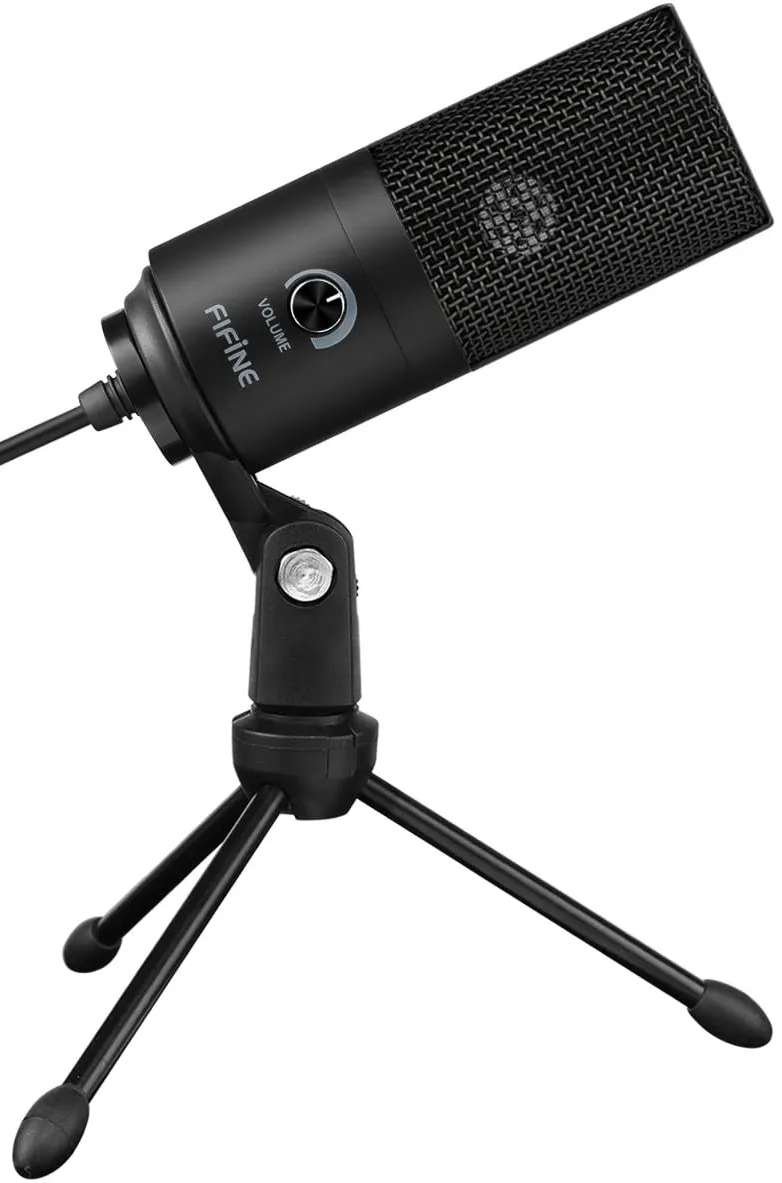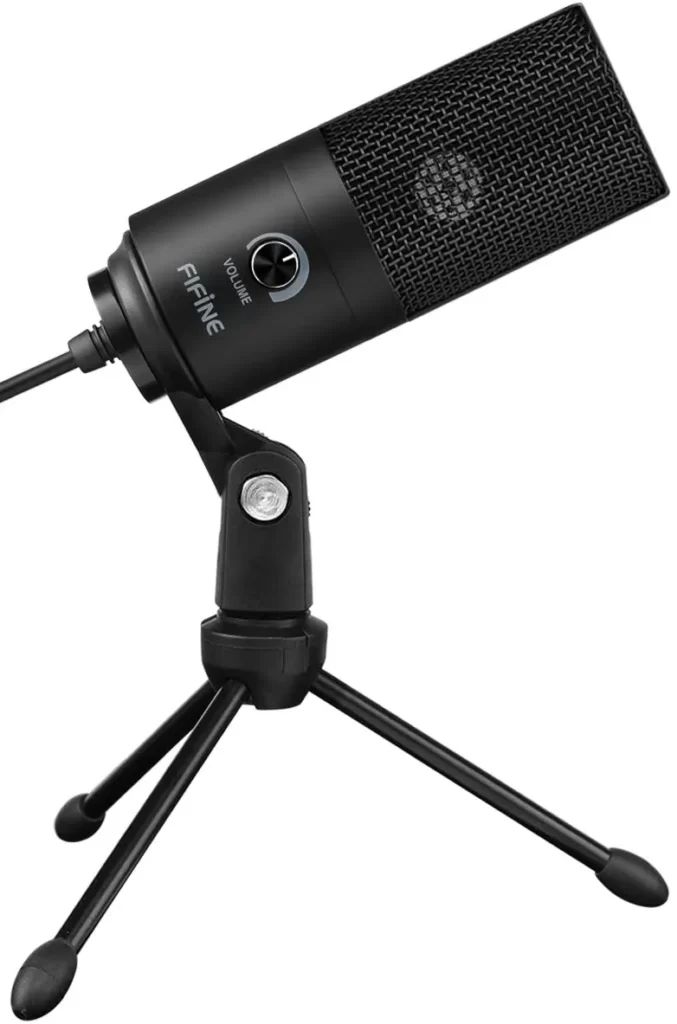 The Fifine K669B is an affordable USB condenser microphone that is designed for home recording and streaming applications. We recently had the opportunity to test this microphone and we must say that we were pleasantly surprised by its performance.
First and foremost, the build quality of the K669B is excellent, especially considering its price point. It features a metal construction that gives it a sturdy feel, and it comes with a tripod stand that keeps it stable on your desk or studio setup. The microphone itself is compact and lightweight, making it simple to adapt even to the smallest setups.
In terms of audio quality, the K669B delivers decent results its bass and treble are good with a presence in the mids, the only problem we noticed in this mic is the sensitivity to capture external noises, so configure your OBS and add noise filters for better audio quality.
Rode Podcaster


The RØDE Podcaster is a dynamic USB microphone that combines broadcast-quality audio with the simplicity of USB connectivity, allowing recording directly to a computer without the need for an additional digital interface.
Including an audiophile-quality 18-bit resolution and 48kHz sampling, the Podcaster processes all of the analog-to-digital conversion internally, bypassing the computer's lower-quality onboard sound controller altogether.
This condenser rode podcaster USB mic has the full package of a professional mic, an in-built pop filter to capture those nasty plosives, and an addition of a low-cut filter to nullify any low-frequency rumbles that might ruin a take.
Its construction is robust with the premium quality of Rode products, the white finish and the metal parts give the impression of a high-quality product. In addition, it has volume control and support for any tripod or structure you want.
In terms of its price, it is one of the most expensive on this list, costing an average of $230, but it is a perfect option for those looking for more premium products that deliver studio quality in a robust product with a luxury finish that will last for many years.
Shure MV7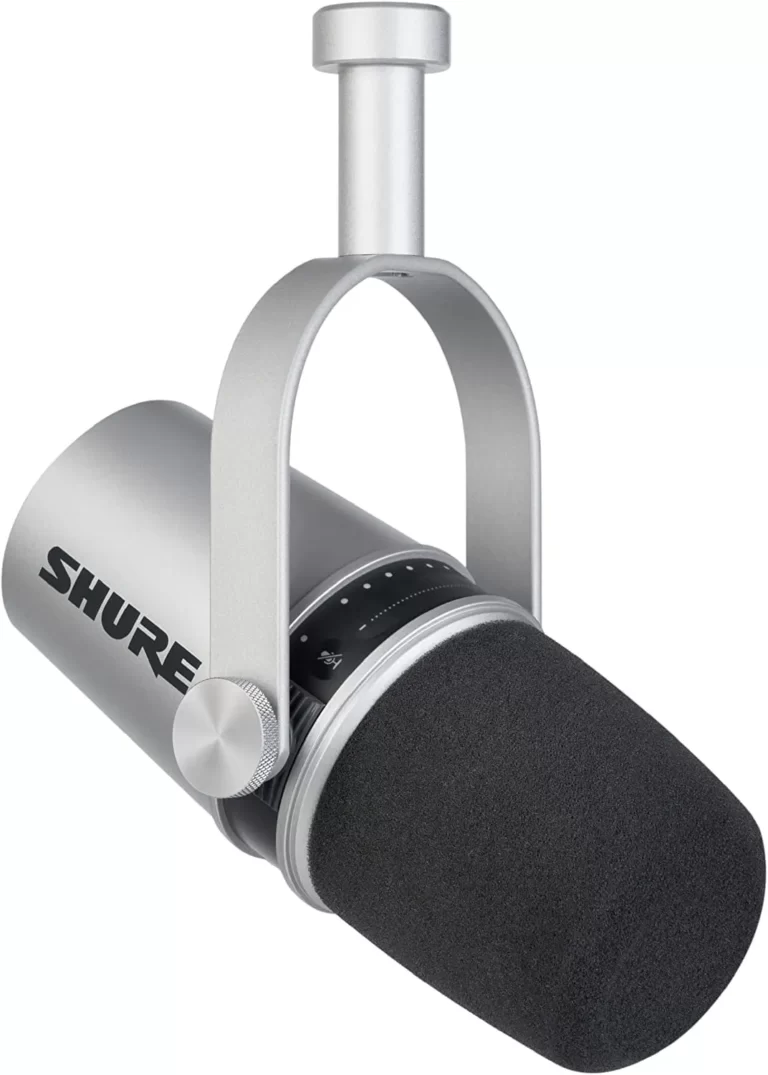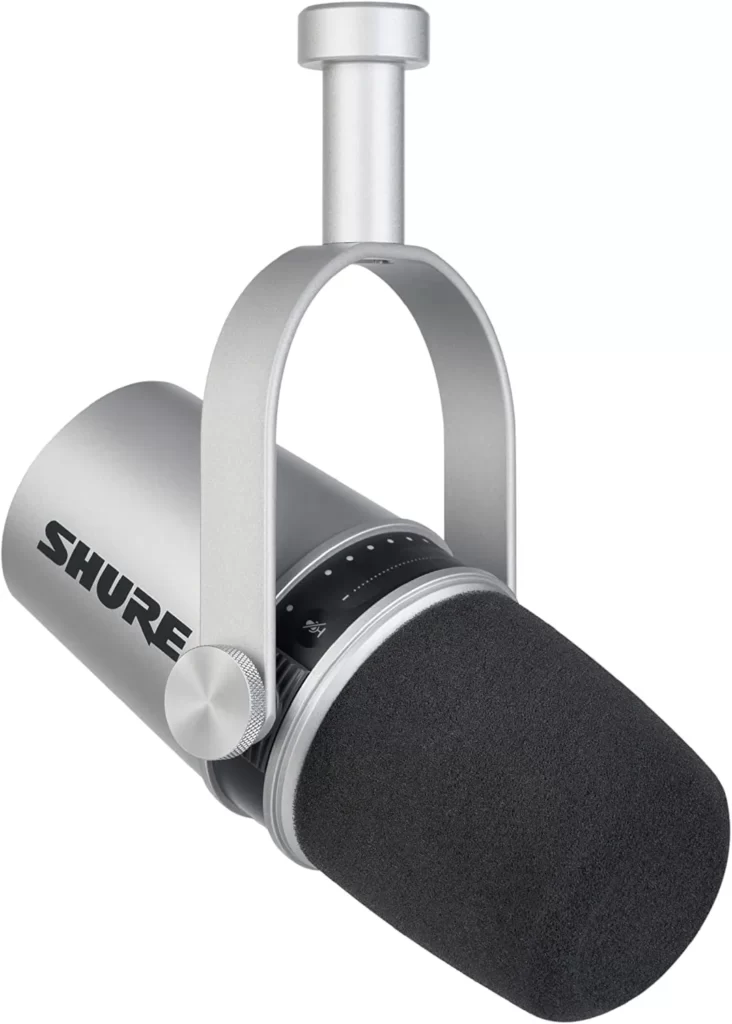 The Shure MV7 is a professional-quality USB/XLR dynamic microphone inspired by the legendary SM7B, ideal for close mic applications that require vocal intelligibility with a balanced tone.
A touch panel interface on the microphone itself provides control over microphone gain, headphone level, monitor mix, and muting, and the ShurePlus MOTIV Desktop Application allows users to save their own presets or enable auto-gain, compression, and EQ preset for easy real-time audio processing.
The attractive and durable all-metal design features an adjustable yoke that can be mounted onto a variety of microphone stands for flexible placement options.
Its price is similar to the previous mic remaining in the $230 range, as it is a premium product and above average it may not be recommended for beginner streamers or those who still do not receive well from Twitch.
Blue Yeti Microphone

This mic is designed easy for streaming, its Built-in metal stand gives you easy control and adjustability so that the angle of the mic is exactly where you need it.
Plug your headphones into the no-latency headphone port and adjust the volume so that you can hear your voice in real-time.
In the link we brought you is a complete kit for streaming with: Blue Yeti USB Microphone (Blackout), Microphone Suspension Boom Scissor Arm with 5/8-27 Threading, Shock Mount, and Pop Filter for Broadcasting and Recording Microphones. Allowing you to start your streams today.
For the quality of the Blue Yeti that needs no comments and all the items included in the package to make your life easier as a streamer, this kit is one of the most cost-effective available in this list, costing an average of $160.
Razer Seiren X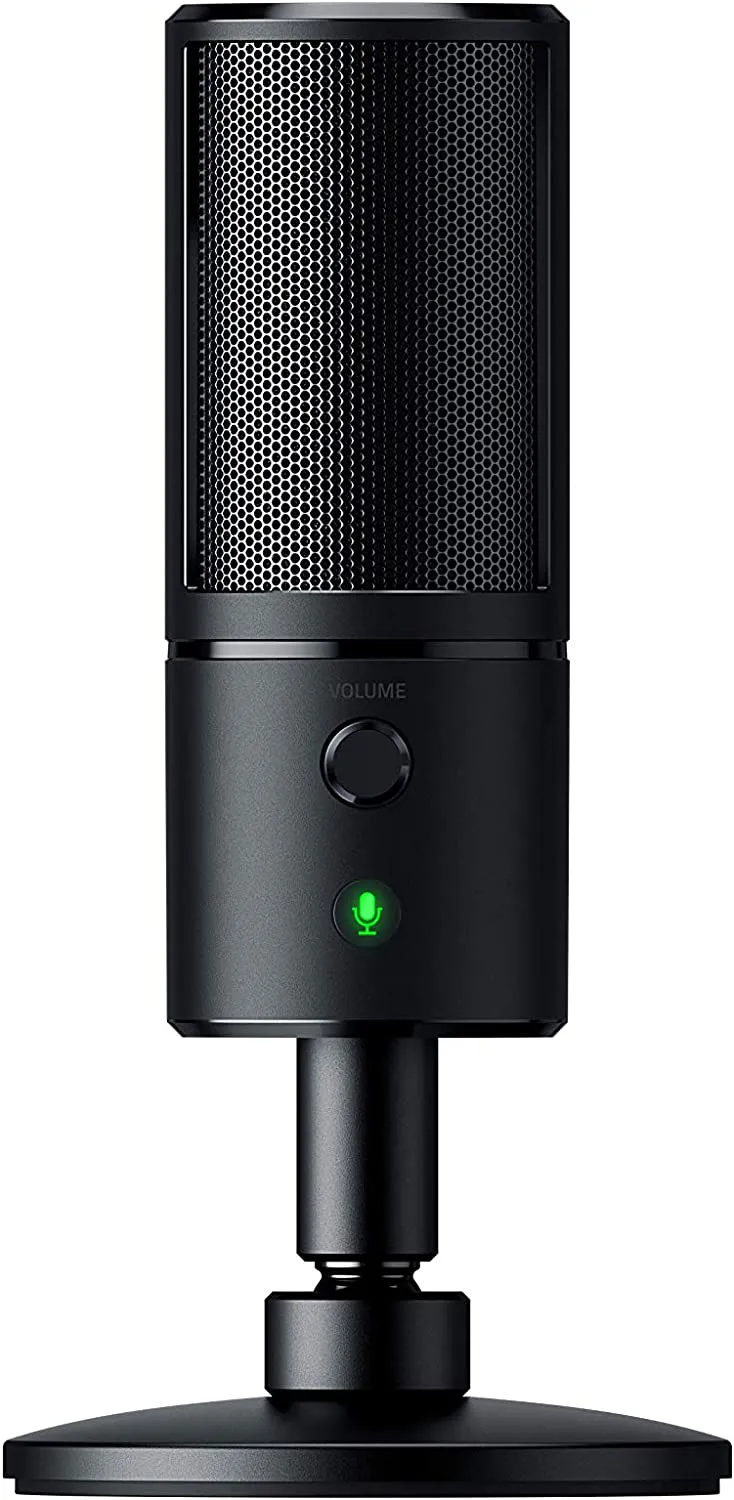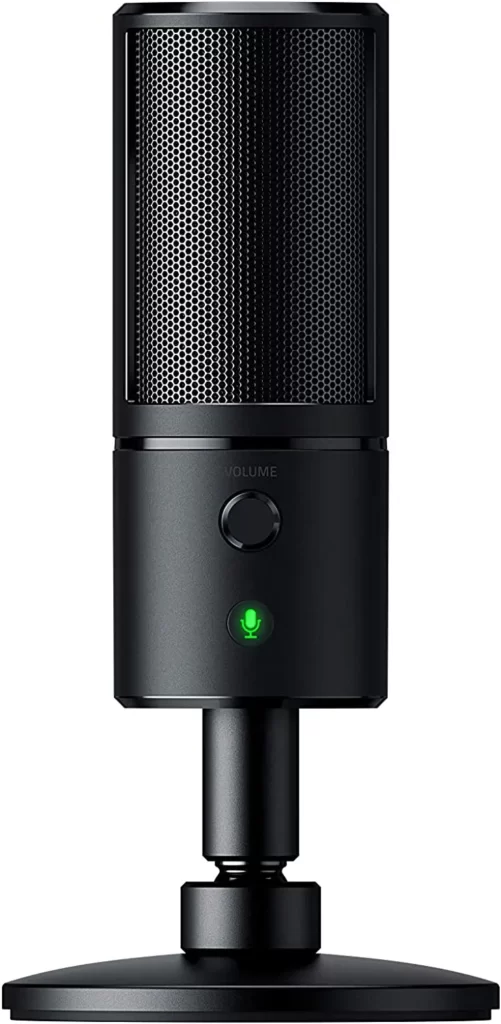 Returning to the most cost-effective microphones, we have the Razer Seiren X, a great choice for anyone who likes Razer products and wants to complete their setup.
The Razer Seiren X is the microphone designed specially to elevate the quality of streams.
This mic features Zero Latency Monitoring for zero audio lag hearing yourself real-time, precise pattern reducing unwanted noise, inbuilt shock mount that dampens vibrations and an incredible quality and greater range of sound frequencies due to its condenser microphone.
Its price is again more friendly in the range of 75$, which for those who enjoy Razer products is an excellent choice.
Elgato Wave 3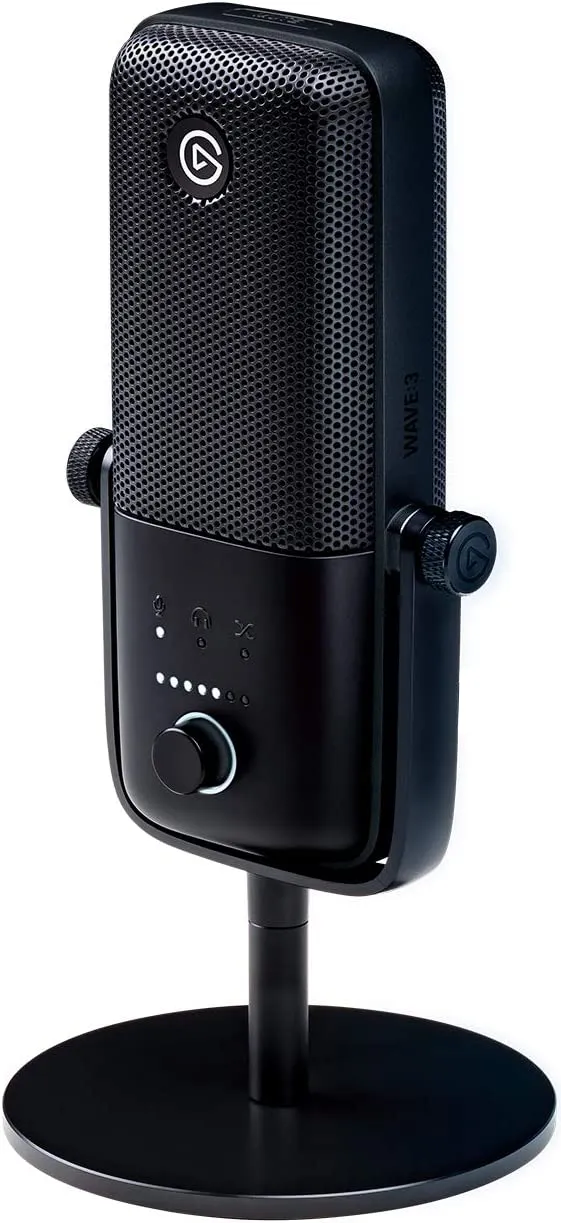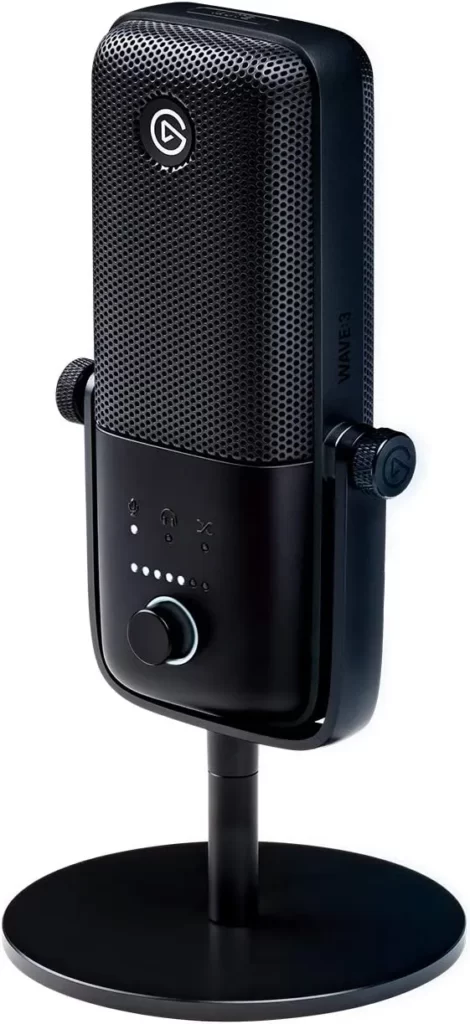 The top-rated microphone by streamers and content creators, being the complete package with a mic and mixing interface all in one, its audio is crystal clear professional studio quality, with an impeccable build and full software compatibility.
Wave 3 is a premium microphone and digital mixing solution that fuses plug-and-play convenience with broadcast-grade circuitry. Never clip again thanks to proprietary anti-distortion technology. And combine all your audio sources, plus create two independent mixes one for you and one for your audience with the Wave Link app.
The features of this microphone are so many that we recommend you visit our link to learn more about the product.
In addition to everything said before, the price of this mic becomes the best value for money on this list, being in the $120 range, this is definitely our choice if you want an all-in-one solution.
This was our list of the best Microphones available on the market, we hope it helped you make a good decision 🙂 If you want to improve your stream even more, check out our post with 100 tips to improve your stream.
Is it worth getting a USB microphone?
Determining whether investing in a USB microphone is worthwhile would depend on the specific requirements and use cases. USB microphones are generally ideal for those who need a straightforward and user-friendly microphone for activities like video conferencing, podcasting, or recording demo vocals.
They are often more cost-effective than XLR microphones and require less setup time and supplementary equipment. Additionally, they provide satisfactory sound quality for simple recording purposes.
However, if you require superior audio quality for professional recording, an XLR microphone with a dedicated preamp and audio interface may be more suitable. XLR microphones generally deliver superior sound quality and greater control over your audio recordings.
In summary, if you are a novice seeking an affordable and simple option for basic recording requirements, this type of microphone may be a good option. On the other hand, if you are a professional or need higher-quality audio, investing in an XLR microphone with dedicated equipment may be a better choice.
Are USB mics bad for recording vocals?
For basic recording needs, USB microphones can provide satisfactory sound quality. However, for professional vocal recording, XLR microphones generally offer better sound quality and more options for controlling audio recordings.
The quality of vocal recordings made with USB microphones is not inherently "bad," but it may not be as high as those made with XLR microphones, depending on the specific recording requirements. USB microphones are designed to be simple and easy-to-use devices that can be connected to a computer or other devices via a USB port.
Can USB mics be good?
Yes, USB microphones can be good for certain recording purposes. They are generally affordable, easy to use, and convenient to set up, making them a great option for beginners or those who require a simple and straightforward microphone for tasks such as video conferencing, podcasting, or recording demo vocals.